When you plan a boho picnic, you are the artist, so you may enjoy and be creative with the design! The boho style enables you to mix and match various patterns and colours.
The aim is to break down conventional thinking and intentionally combine things.
1. Boho Picnic Blankets
We typically used an antique, thick quilt that was handmade by grandmothers or great-grandmothers as a youngster. They were robust, thick, and protected us from the dirt or dew on the grass.
We would happily machine-wash them afterwards. It was definitely a boho touch, but these days, I would cringe a bit to use one of those quilts as they are now irreplaceable.
You may use quilts or mats that you already have at home, or if you don't want to get them dirty, a brightly patterned, waterproof picnic blanket. Ensure that ground moisture does not seep through inadvertently. In our 10 greatest waterproof blankets article, you may discover different blanket alternatives.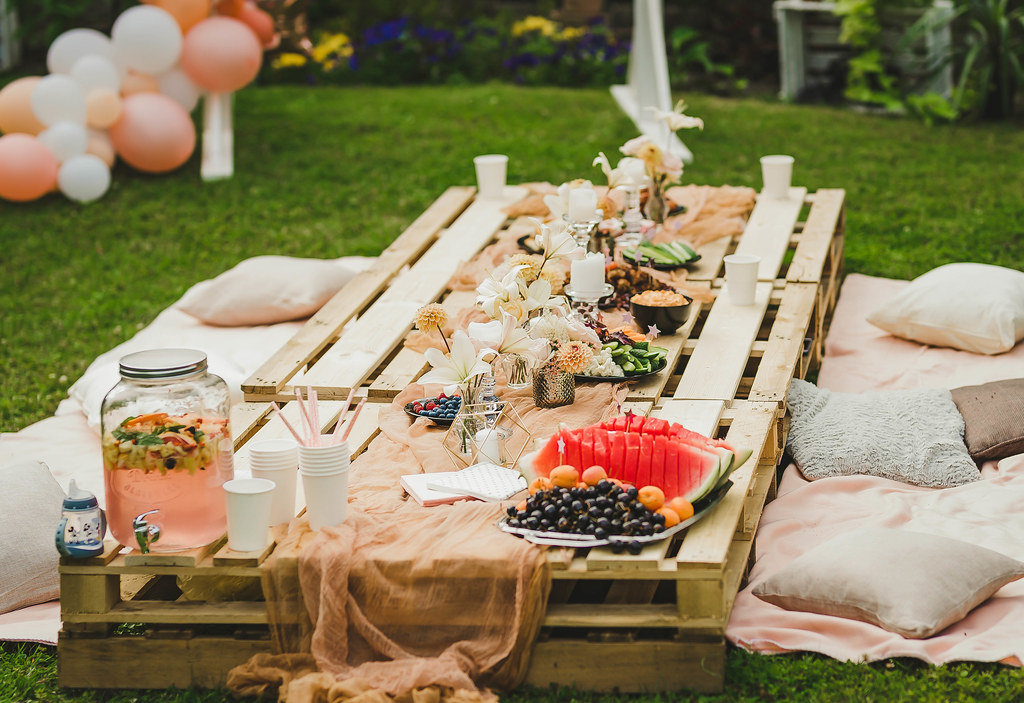 2. Low Picnic Tables
When we think of a boho picnic, we usually consider low picnic tables.
You may make these yourself for little or no cost if you have access to pallets. Cover only part of a boho table cloth with two pallets and join them together.
To prevent things and beverages from sliding down the cracks, cover the top with plywood or utilize wooden serving platters and sturdy placemats to give support.
If you don't have any pallets, you may also utilize a low portable table or even a coffee table from your own home.
3. Boho Picnic Baskets
Bring a wicker picnic basket to give your picnic an old-fashioned look and yet also assist you to pack, transporting, and organizing food more efficiently. They're not only gorgeous, but they're also quite useful.
Some are insulated to keep your meals and beverages cold while they're on the road. You may also get a package that includes plates, glasses, a cheese board, and silverware.
4. Boho Umbrellas
Amara's outdoor umbrella with a fringed canopy is a fantastic way to make a bohemian statement. Make sure you choose one that will also serve as shade if you need it to do so; otherwise, guests may be annoyed by the sun while they are waiting.
Instead of a lawn, you might also create a more secluded area for relaxation by using an ornamental canopy or an open tent. A strand of lights from the interior will provide a touch of romance and charm.
5. Boho Seating Cushions
Outdoor cushion covers or floor cushions can be a fantastic way to add colour and comfort to your space. If you don't have any poufs, bean bag chairs, or old pillows from home, you may use anything else that provides cushioned sitting.
6. Throw Blankets
If the night is going to be chilly, prepare blankets in advance. You may either buy low-cost throw blankets for visitors to wrap up in or use a quilt from your own home!
Boho Picnic Food Ideas
Some ideas for foods are:
Cheese
Olives
Crackers
Pestos
Grapes
Dried fruits and nuts
Berries
Cured meats
Hummus
Baguettes
Flatbread
Dolmas
Dishes
This is a fantastic opportunity to resurrect china from unfinished collections and breathe new life into them.
Although, if you're going to your picnic site or putting up on the beach, disposable is probably the way to go. We came across these palm leaf disposable plates that are environmentally friendly and very lovely; we believe they'd look great at your picnic!
Aesthetics: Making It Pretty
You may also use candles to decorate the table or designate the edges of your area for a bohemian style.
Candles with a non-greasy finish, like beeswax pillar candles, can also be lit for ambience. They give off a lovely glow and are great for providing natural bug repellent. Bug repellent scents such as citronella, cinnamon, and mint stimulate the brain to be alert and energetic.
If you're looking for earthy, peaceful aromas with eucalyptus, mint, sage, and other bug-repelling scents.
Boho Tents
This adult-sized lace tent at a corner of the blanket can provide a unique touch to the boho décor. It's also a fantastic photo opportunity.
Flowers
Flowers are always welcome at any gathering! Make a nosegay for each guest and place it at their seat at the table, or put small bouquets in vases of various heights around the table.