Whether you'd want your children's pals to come over for lunch, playtime, or creating outside so they don't make a mess in the house, or you'd want to have picnics in the parks, you'll need a dependable kids picnic table.
Kids enjoy having their own special location to play together, whether it's inside or outside.
Best Kids Picnic Tables:
1. Lifetime Kids Picnic Table
This picnic table is not only adorable, but it's also one of the most practical, long-lasting, and simple-to-clean children's tables available. By a long shot, this is our top pick, and all the parents who purchased it are completely happy with their purchase.
The Lifetime table seats four children comfortably and provides them with their own area for arts and crafts, lunch, snacking, and playtime.
Even if the manufacturer intended it for children aged three to eight, according to reviews, it fits kids from one to eleven years old.
2. Merry Garden Kids Wooden Picnic Bench
If you're searching for a low-cost, traditional wooden picnic table for your child, the "Merry Garden" is the one to choose.
This adorable table is made of natural kiln-dried fir wood and is both sturdy and long-lasting, making it ideal for the backyard, patio, or picnic gatherings. Some people even use it indoors because of its beautiful adaptable shape.
3. Little Tikes Easy Store with Umbrella
The Little Tikes Picnic Table is a time-honoured classic.
The tiny tikes picnic table can accommodate three small children on each side, ensuring that no one is left out. They may all sit comfortably and enjoy each other's company while playing, drawing, or eating snacks.
The edges are rounded and lifted so that crayons/snacks don't roll off.
The table is made of simple, lightweight plastic so it's easy to wipe up any spills. Simply clean it with a rag or disinfect it using a Clorox wipe.
4. KidKraft Outdoor Table with Chair Set
The Kidkraft picnic table will undoubtedly receive favourable attention from all of your visitors, and it resembles a miniature version of an adult patio table. Both children and adults appreciate this feature.
It's a stunning one-of-a-kind item made of genuine cedar wood – with a detachable sun canopy and soft cushions – that smells fantastic.
This furniture set is ideal for the backyard play area, impromptu picnics, outdoor lunchtime in the warm seasons, and even indoor use.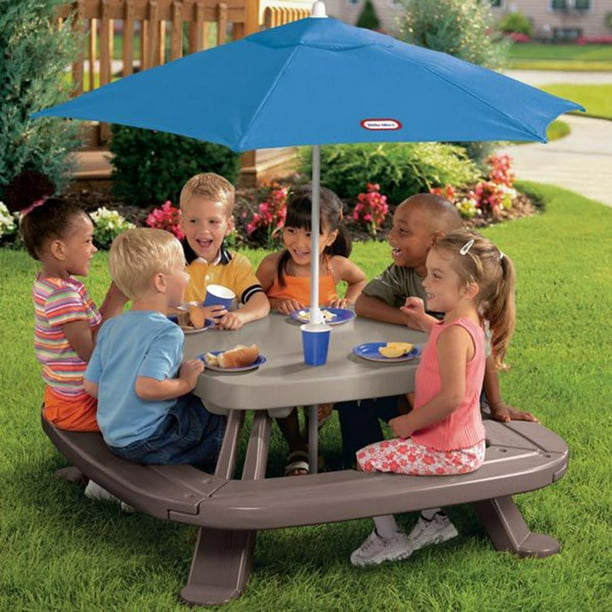 5. Little Tikes Fold 'n Store with Market Umbrella
This Picnic Table has a unique design – it's four-sided and features a huge umbrella in the middle.
This 8-person inflatable is available at just the right size for playdates, birthdays, and family picnics.
With its enormous design, each youngster will have their own area to play, munch, or create.
Although it's billed as "Fold 'n Store," the table needs a few more preparations before you can fold it up – you must remove your tools and take several bolts out before making it flat.